Upgrading your bike is one of the finer pleasures in life - there's few things more satisfying than spending some time replacing components, or adding nice upgrades to improve performance and make you bike look awesome.
Cycling is a sport that is somewhat obsessed with image, there are plenty of so-called 'rules' which say how cyclists should act. These 'rules' include everything from etiquette when passing fellow riders to the correct sock length - looking at you Velominati.
With this in mind, we tried to think of the flashiest upgrades you can add to your bike to make your clubmates green with envy. Although they might not improve your performance, we're pretty sure they'll get the rest of your pals talking.
1. Outrageous Bar Tape
Bar tape in of itself isn't too crazy, but there are some wild varieties out there that will catch the eye of everyone on the road as well as other riders.
Block colours have always been popular in the sport as well as the classic look of black or white, but why choose a pattern to your bar tape? Or even mix it up and use a combination of two or three colours when wrapping tape - although this will test your skills when applying.
2. Upgrade to Di2
With more and more bike manufacturers taking on Di2 as their top end shifting mechanism, as well as the increase in uptake from professional cycling teams, rocking up to the group ride with Di2 on your bike will surely turn heads. The technology is now filtering down so that many 2017 road bikes have the option to include Di2 when buying.
Electronic shifting makes gear changes easier without having to rely on pesky cables and mechanics. Dazzle your club mates as you out-sprint them with your super smooth shifting action - but don't give the gears all of the credit, you still need to come first.
3. Spoke Lights
Now bear with us on this one. We're not talking your run of the mill, one colour spoke lights here. We're talking full on Blackpool illuminations level.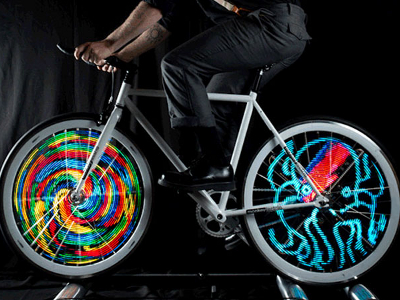 Imagine turning up at the club run in Winter with everyone cold and probably wet too, with a set of spoke lights that create a moving image when you're riding. They're not for everyone, and serious roadies won't even look at them twice, but they are literally one of the flashiest upgrades you can use in Winter.
4. Power Meters
Nothing says you're serious about your training than investing in a power meter. A device in the crank that measures your wattage when cycling and displays it in realtime on your cycling computer - what's not to love?
One for the real data junkies, wannabe-pros or serious trainers, the power meter is a great talking point on the club ride, just try not to bore everyone by giving a running commentary on your current wattage, or your max power on that last sprint.
5. Tri-Bars
Also know as TT bars or handlebar extensions, these are only for those truly dedicated to Time Trialling, that most masochistic of cycling disciplines.
Often accompanied with a rear disc wheel and an aero helmet, tri-bars are a great addition to your bike if you ride TT's regularly, although care should be taken when riding on them on the road as they don't give you as much control as regular drops.